Accommodation: Apartments Krivokapic
Kumbor, Montenegro
category
category
category
category
Number of views: 817582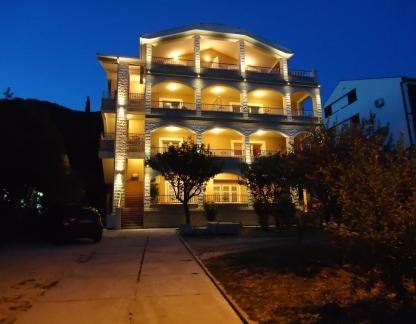 Apartment:
Room:
Studio:
Whole object
New in the offer Apartments Krivokapic
In Kumbor 4 km from Herceg Novi we offer you newly built apartments on the coast.
We have six larger apartments with separate bedrooms (4 to 6 people) as well
two three-bed studio apartments. All apartments have terraces overlooking the sea. Also
have fully equipped kitchens, bathroom, air conditioning, wireless internet and satellite TV.
If you come by car you have secured parking in the yard.
In the immediate vicinity are well-stocked markets, restaurants, pizzerias, clean and landscaped sandpits
and concrete beaches. Possibility of organizing boat trips as well as transfers from the airport.
Rental prices vary from 35 to 65 euros depending on the date of accommodation.
In case of a longer lease, a possible agreement.
We wish you a pleasant and enjoyable vacation in our apartments.
Come and see for yourself!
Legend:
All rooms, apparments
Some rooms, apartments
No
Capacity:

8 apartmana

Seaview:
Water 24h:
Bathroom:
Kitchen:
Room service:
Safe box:
Large terrace:
Balcony:
Air conditioning:
TV:
Cable TV:
Internet:
Telephone in the room:
Parking:
Garage:
Pool:
Suitable for children:
Pets allowed
Characteristics of accommodation
Legend:
All rooms, apparments
Some rooms, apartments
No
Capacity:

8 apartmana

Seaview:
Water 24h:
Bathroom:
Kitchen:
Room service:
Safe box:
Large terrace:
Balcony:
Air conditioning:
TV:
Cable TV:
Internet:
Telephone in the room:
Parking:
Garage:
Pool:
Suitable for children:
Pets allowed
From the center:

4 km

From the beach:

10 m

From bus station:

4 km

From airport:

19 km
From ambulance:

5 km

From restaurant:

100 m

From sports fields:

50 m
Prices and payment options
Payment options:
Cache:
By bank transfer:
Credit cards:
In Pre-season

Na upit

In high-season

Na upit

In post-season:

Na upit

Out of season:

Na upit
Updated: 09/10/2023
Powered by GdeNaMore.com